Professional Global Consultancy at JFI Store.
CONSULTANCY SERVICES AVAILABLE.
Józefa Fawcett is the Learning Excellence Architect at JFI Store and a multi-award-winning learning consultant providing additional services (upon request) via LearningVoice. She has a wealth of experience from over 37 years of working in the professional fields of training, learning and change, with many accolades that attest to her knowledge and excellent standard of work. Available to take on a small number interim and specialist learning projects each year Józefa has worked with managers, project leaders, HR, learning teams and academia in 35 countries across Africa, Australia, Europe, Central America and Asia.
Available for a variety of short or medium term contracts in 5 areas and across 24 different specialist topics.  Józefa can provide you with:
Training Design (class-based or blended)
Digital Learning Design
Training Delivery
Interim HR / L&D Project Management & Support
Business and/or HCM Excellence Assessment
Academic Lecturing (Post-Graduate Masters Level)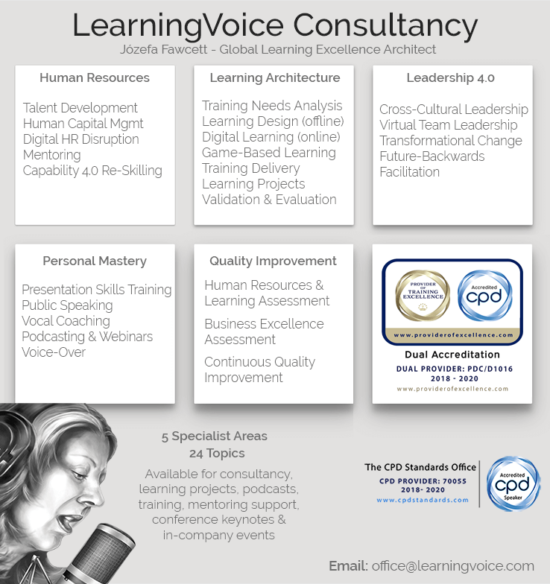 15 INDUSTRY / SECTORS (PUBLIC, PRIVATE & TSO's).
Her approach is underpinned by the work she has done with global clients ranging from blue-chip across 15 industry sectors, public, private and TSO's, military, government and international academic institutions to small/medium niche specialists.
Energy, Utilities & Renewables: Oil and Gas (Italy, Kazakhstan, UK), Waste Management (UK)
Transport & Logistics: GAC (Dubai)
Construction: Building materials (Mexico)
Pharma & Life Sciences:  Scientific Research (Kuwait), Novo Nordisk (Denmark)
Healthcare: Biotech (Germany), NHS, Public Health (UK) Astana Medical University (Kazakhstan)
Financial & Professional Services: Lloyds Banking Group, Lexis Nexis Legal Publications (UK)
Government & Public Services: Central & Local Government (UK), Intergovernmental EPO (Austria), Regional Development Agencies (Hungary, Bulgaria, Italy, Slovakia), European Commission (Belgium), State Chancellery (Latvia), Government of the United Arab Emirates (UAE)
Charities: Macmillan Cancer Support, Cancer Research (UK)
Recruitment: Blue Arrow Employment Agency (UK)
Higher Education: HEI's (UK, Estonia, Turkey, Russia, Spain, South Africa, Mexico), Professional Awarding Bodies & Associations (UK, Switzerland), EU Education & Culture Directorate (Belgium), Association for Adult Learning (Norway)
Food & Beverages: FMCG Danone (Mexico)
Technology, Media & Communications: Telecoms BT (UK), HR Business Intelligence SAP (Ireland, Germany), Community Radio (Germany)
Retail & Consumer Goods: Luxury Goods Chalhoub (Kuwait), Electronics, Cosmetics, Fashion (UK), In-bound Call Centre (UK, Russia)
Armed Forces & Emergency Services: Royal Air Force, Ministry of Defence (UK)
Private / Personal Development Executive Coaching & HR (Malaysia)
For further information and an informal chat about your business learning needs please CLICK HERE to send an email