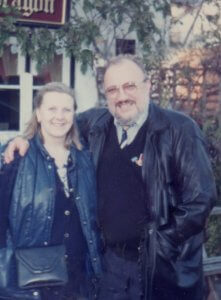 Me and Steve Collins in 1992
The journey continues…
Over the last 20 years, I have been on an amazing learning journey of academic discovery. I left school with just a clutch of what were once called 'O' levels (now GCSE's) and a passion to work in make-up.  And I did.  I studied to be a beautician, I trained in stage and photographic make-up and went on to have a very successful career in the cosmetic world.  Never did I think that I needed to study more, I was enjoying myself too much.
After progressing through various training roles and then mainstream HR roles in the private sector, in 1990, I went into the public sector to work in the UK NHS, and it was there that I met my former manager, Dr Steve Collins. He awakened my interest in academic study and research and though I was very nervous about stepping foot inside a classroom again, adult education beckoned and so I started my academic journey culminating in a Post-Graduate Masters Degree in Strategic Human Resource Management in 2000.
Steve made me realise that it wasn't the qualifications per se, that were important – even though they were a representation to a traditional world that I had a certain level of academic attainment – but the fact that I was continually learning, and more importantly, using that learning to improve my professional practice in training and development.
Fast forward to 2012, and I am still learning and doing various amounts of research to support my professional practice, so thank you Steve for all that you have taught me.
Until next time ~ happy learning!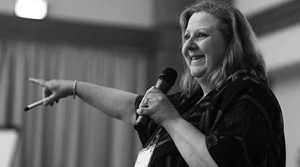 Józefa Fawcett
Professional Trainer, Learning Specialist Designer & Voice-Over