Having worked in training and development roles since 1976, been employed in the private commercial sector as well as the public health services sector and, since 2002, worked as a freelance trainer and consultant in 34 countries across four continents; I love training others as much today, as I ever did all those years ago.
Nearly everyone in business recognises the value and benefits of workforce training. When it's done properly, training can make workers more efficient, increasing production, revenue, and profits while decreasing costs, waste, and inefficiencies. Effective training can lead to increased compliance with regulations. It can even lead to a happier, more satisfied workforce, which in turn reduces turnover and costly on-boarding. So the benefits are many.
Ultimately results are what training and development professionals and customers need and want, yet training and development professionals think and act within the limits of a training expertise that can sometimes lack the very necessary business perspective. Yet, the good news is that it doesn't need to take a huge amount of effort or resources to improve things.  The starting point has to be good training design that actually meets the needs of the business and the impact measured.
Training courses that have been done the same way for years will likely produce the same old results, and this can so easily become something of the norm. Some organisations might even not bother to evaluate the results in practice, assuming that nothing will really change, but at least some training is on offer. It's so easy to miss something that we become very familiar with, we might not even see what's right under our nose.  This wonderful old film from 2012 is a great way to raise our self-awareness of what is right there in front of us
Until next time ~ happy learning!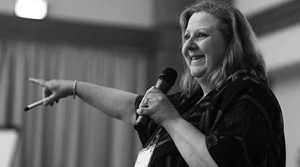 Józefa Fawcett
Professional Trainer, Learning Specialist Designer & Voice-Over